Managed IT Services Portland
Managed IT Services in Portland, OR
Simplify IT management with reliable services and support from a trusted Portland Managed IT Services Provider.
Expert Managed IT Services in Portland
Tired of dealing with technical issues in your business that slow it down? Concerned about cyber security or protecting sensitive data as your company grows? Advanced Networks provides comprehensive and expert managed IT services in Portland and surrounding cities.  
If you're a business owner in Portland or the surrounding area, you understand the importance of having reliable and efficient IT systems. At Advanced Networks, we provide comprehensive managed IT services in Portland to businesses of all sizes, and we're dedicated to helping you keep your business running smoothly and scaling seamlessly.
What Are Managed IT Services Portland?
Managed IT Services are IT support services provided by an external company responsible for managing and maintaining your IT systems. This includes software updates and security patches to troubleshooting and help desk support.
Learn More About Our Other
Managed IT Services We Offer in Portland
Request a quote for Managed IT in Portland.
Advanced Networks - A Leading Portland Managed IT Services Firm
Get a full range of enterprise level managed IT services from a single provider that offers proactive small business IT solutions. 
Master your cloud migration and benefit from implementation, hosting, and data backup services from a proven partner that is SSAE 16 certified. 
Secure your network with advanced cybersecurity that includes penetration testing, secure email services, free antivirus and anti-malware protection, and more.
Resolve IT issues faster while avoiding costly downtime with managed IT support in Mission Viejo that is backed by an average response time of just eight minutes. 
Benefit from responsive helpdesk services that answer 99% of calls during regular business hours and resolve 100% of tickets within committed deadlines.
Design, build, and deploy a robust network for your business with custom network blueprints, detailed network assessments, VPN integration, and more.
Drive educated decisions about IT services and support forward with expert advice and detailed reporting from a trustworthy Technical Account Manager.
Backup and Disaster Recovery
Maintain business continuity in the face of disaster with cloud data backup and disaster recovery services that restore full functionality within five minutes.
Hardware-as-a-Service (HaaS)
Seamlessly integrate new IT hardware into your current and future operations and benefit from regular maintenance with our all-inclusive HaaS solutions.
Industry Leaders Trust Our IT Solutions in Portland

Why Advanced Networks is a Top IT Company in Portland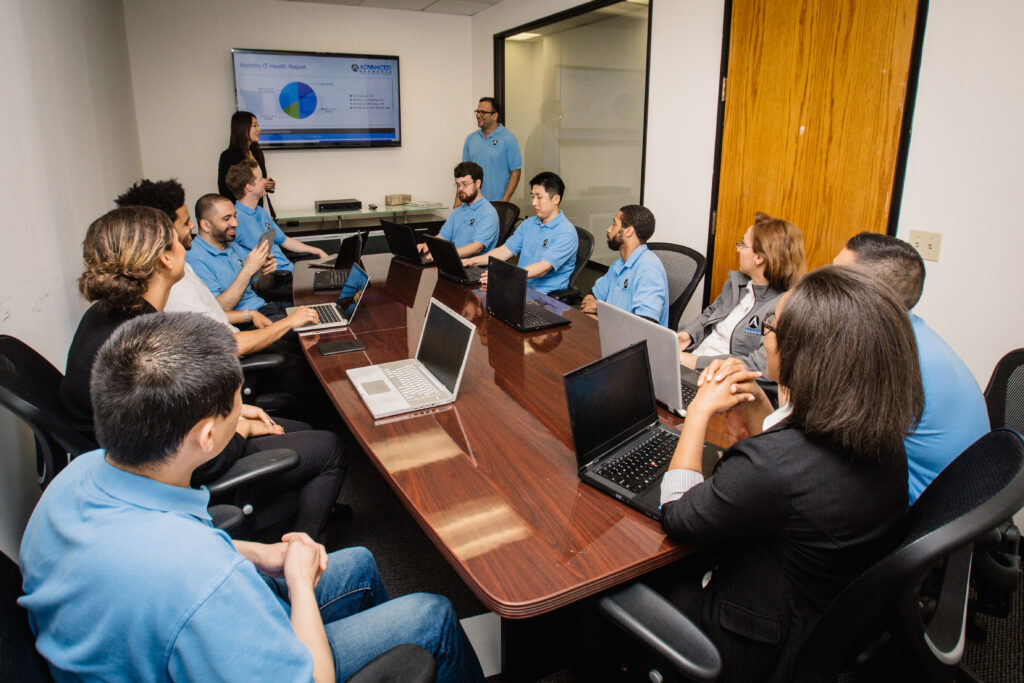 Why Choose Advanced Networks for Your Managed IT Services in Portland?
At Advanced Networks, we have a proven track record of providing reliable and efficient managed IT services to businesses in Portland and the surrounding area. Our team of experienced IT professionals is dedicated to ensuring that your IT systems are operating at peak performance, and we're committed to delivering the highest level of customer service.
If you're looking for a trusted partner to manage your IT systems, choose Advanced Networks! Contact us today to learn more about our managed IT services in Portland.
Prioritize Performance With a Trustworthy IT Company in Portland
Get a full slate of IT services from a top-rated  Managed IT Services provider Portland.
How Businesses Succeed With Our IT Services in Orange County
Pellentesque habitant morbi tristique senectus et netus et malesuada fames ac turpis egestas.
What Clients Say About Our Managed IT Services Portland
See how Advanced Networks has provided 24/7 IT support and reliability to Eataly in Los Angeles
Watch how Advanced Networks has provided Cloud Desktops and IT support to help M&Y Law Firm scale to 100 Person Firm
Learn how Advanced Networks has implemented and maintained EHR for clients in Healthcare to meet HIPAA compliance
Learn how Advanced Network has provided 24/7 enterprise IT support and Disaster Recovery for LA Weekly
See how Our IT Services In Portland has revolutionized the curriculum for students while creating private remote cloud for staff
See how we help our Manufacturing Clients by Centralizing Applications, Implementing Thin-clients and providing Enterprise Support