Mission Viejo Managed IT Services
Managed IT Services in Mission Viejo
Simplify IT management with reliable services and support from a trusted Mission Viejo managed services provider.
Expert Managed IT Services in Mission Viejo
Tired of dealing with technical issues in your business that slow it down? Concerned about cyber security or protecting sensitive data as your company grows? Advanced Networks provides comprehensive and expert managed IT services in Mission Viejo, CA and surrounding cities.  
If you're a business owner in Mission Viejo or the surrounding area, you understand the importance of having reliable and efficient IT systems. At Advanced Networks, we provide comprehensive managed IT services in Mission Viejo  to businesses of all sizes, and we're dedicated to helping you keep your business running smoothly and scaling seamlessly.
What Are Managed IT Services?
Managed IT Services are IT support services provided by an external company responsible for managing and maintaining your IT systems. This includes software updates and security patches to troubleshooting and help desk support.
Learn More About Our Other
IT Services in Orange County
Request a quote for our Mission Viejo IT services.
Advanced Networks - A Leading Mission Viejo Managed IT Services Firm
At Advanced Networks, we understand that every business is unique, so we offer tailored IT management services in Mission Viejo to suit your specific needs. We take pride in working closely with our clients and listening to what you say. We take the time to thoroughly analyze and understand your business objectives and provide a customized service that aligns with your business goals.
Maintaining a business requires your IT systems to run the latest and greatest technology. That is why we are constantly offering an opportunity to express your ongoing and new problems so we can update anything within your IT processes. Your ongoing collaboration with us is vital to the success of our partnership as we provide managed IT services to your business in Mission Viejo. 
Our team of professionals is experienced in IT and is dedicated to ensuring that your IT systems operate efficiently and effectively at all times. We use the latest technology and tools to monitor your systems 24/7 and proactively identify and resolve potential issues before they become significant problems.
Managed IT Services in Mission Viejo We Offer
We offer a range of Managed IT Services to suit businesses of all sizes. Whether you need new software or hardware or whether you need cloud-based services, we have you covered. 
Network Management
Don't worry about your network running efficiently again. We manage your network infrastructure, including firewalls, routers, switches, and wireless access points. 
Server Management
Never worry about losing access to your essential documents with our server management services. We manage your servers, ensuring they are constantly updated and secure.
Help Desk Support
Worried about needing support after hours? Our team provides help desk support to your employees, resolving any IT issues they may encounter at any time. 
Cloud Services
Accidentally delete a file from your computer? Don't worry. We provide various cloud-based services, including data backup and recovery, email hosting, and virtualization.
Cybersecurity
Safety is critical for any business. That is why we offer comprehensive cybersecurity services to protect your business from cyber threats.
Network Design and Implementation
Work with us, and we will design and implement a network infrastructure for businesses, including wireless networks, VPNs, firewalls, and routers.
IT Consulting
We understand that the IT world might be difficult to understand, but we are here for you. Our IT consulting services help businesses make informed decisions about their IT systems and infrastructure.
Data Center Solutions
We provide data center solutions, including colocation, managed hosting, and disaster recovery.
IT Procurement
When you work with us, you can procure hardware and software that best meets your business needs and attain expert advice on maximizing the use of these products. 
Wireless Site Surveys
We offer wireless site surveys to help businesses optimize their wireless network performance.
Benefits of Our Managed IT Services in Mission Viejo
Choosing Advanced Network for your Managed IT Services in Mission Viejo has many benefits, including:
Increased Efficiency
Our Managed IT Services allow you to focus on your core business objectives while we care for your IT systems.
Reduced Downtime
We proactively monitor your systems and resolve issues before they become significant problems, minimizing downtime and ensuring business continuity.
Cost Savings
Our Managed IT Services are cost-effective, allowing you to reduce your IT costs while maintaining a high service level.
Improved Cybersecurity
Keeping your information is critical and we have all the tools to ensure that you run your business securely and effectively. We provide various cybersecurity services to protect your business from cyber threats, giving you peace of mind that your data is secure.
Scalability
Our Managed IT Services are scalable, so we can adapt to your changing business needs and ensure that your IT systems always align with your business objectives.
Experience the Benefits of Our Mission Viejo Managed Services
Get a full range of enterprise level managed IT services from a single provider that offers proactive small business IT solutions. 
Master your cloud migration and benefit from implementation, hosting, and data backup services from a proven partner that is SSAE 16 certified. 
Secure your network with advanced cybersecurity that includes penetration testing, secure email services, free antivirus and anti-malware protection, and more.
Resolve IT issues faster while avoiding costly downtime with managed IT support in Mission Viejo that is backed by an average response time of just eight minutes. 
Benefit from responsive helpdesk services that answer 99% of calls during regular business hours and resolve 100% of tickets within committed deadlines.
Design, build, and deploy a robust network for your business with custom network blueprints, detailed network assessments, VPN integration, and more.
Drive educated decisions about IT services and support forward with expert advice and detailed reporting from a trustworthy Technical Account Manager.
Backup and Disaster Recovery
Maintain business continuity in the face of disaster with cloud data backup and disaster recovery services that restore full functionality within five minutes.
Hardware-as-a-Service (HaaS)
Seamlessly integrate new IT hardware into your current and future operations and benefit from regular maintenance with our all-inclusive HaaS solutions.
Industry Leaders Trust Our Mission Viejo IT Solutions

Why Advanced Networks is a Top IT Company in Mission Viejo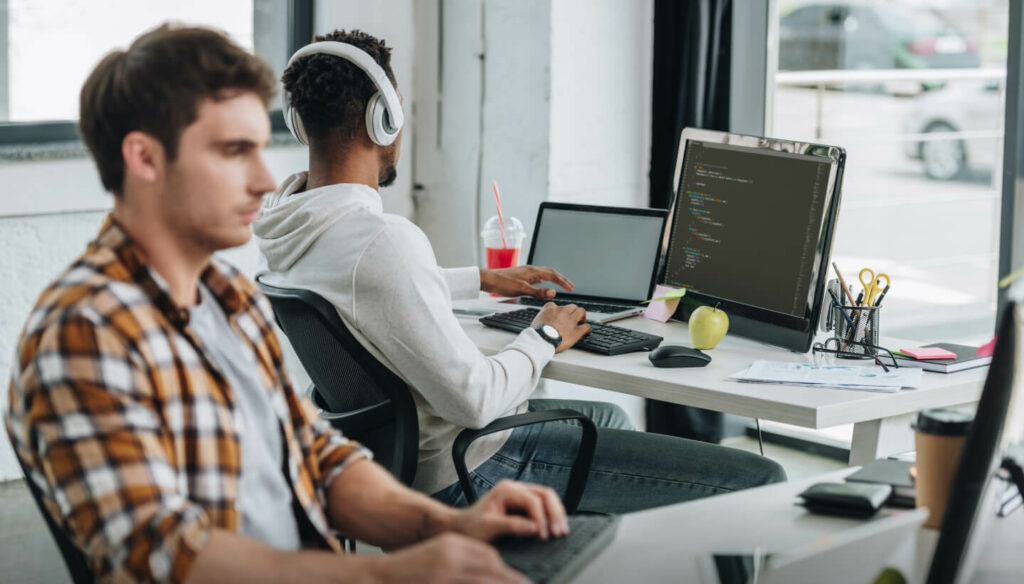 Why Choose Advanced Networks for Your Managed IT Services in Mission Viejo?
At Advanced Networks, we have a proven track record of providing reliable and efficient managed IT services to businesses in Mission Viejo and the surrounding area. Our team of experienced IT professionals is dedicated to ensuring that your IT systems are operating at peak performance, and we're committed to delivering the highest level of customer service.
If you're looking for a trusted partner to manage your IT systems, choose Advanced Networks! Contact us today to learn more about our managed IT services in Mission Viejo.
Prioritize Performance With a Trustworthy IT Company in Mission Viejo
Get a full slate of IT services from a top-rated Mission Viejo managed services provider.
How Businesses Succeed With Our IT Services in Orange County
Pellentesque habitant morbi tristique senectus et netus et malesuada fames ac turpis egestas.