What Are Managed It Services?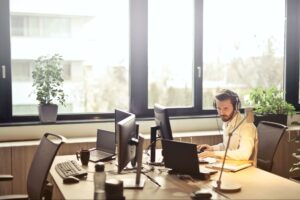 When a company works with a business to manager all of there IT needs which includes: providing all hardware, technical support and cyber security.
Outsourcing the management of certain processes and functions can have many benefits, such as improved operations and reduced costs. This practice, known as managed services, is an alternative to the break/fix or on-demand outsourcing model, where the service provider performs services only when requested and charges the customer on a per-job basis. By hiring a managed services provider, businesses can offload certain tasks and enjoy the advantages of having fewer employees to manage.
Managed IT Services Definition (and Example)
When companies use managed IT services, they are outsourcing responsibilities of their IT tasks to a third-party service provider. 
For companies with an effective in-house IT team, managed services may be leveraged as a way to free up internal staff of repetitive or complex tasks, such as: cloud computing, managed print services, mobile device management, and more. In other cases, a MSPs services offer can be scaled to support an organization's entire infrastructure. 
What is an IT Managed Services Provider?
The meaning of managed IT services is when an IT managed services provider (MSP) provides outsourced IT services. 
In business, MSPs are often used for:
Managing IT infrastructure

Offering technical support to staff

Fully managed hardware outsourcing

Adding cybersecurity hardening to IT systems 

Managing user access privileges and accounts across a client's systems
What separates a good MSP from poor MSPs would be their managed service offering and pricing model. Good managed service providers offer flexible suites of services that fulfill a client's day-to-day IT needs. An example would be an organization gaining managed security, break-fix support, and software-as-a-service (SaaS) in exchange for a predictable monthly fee. 
How Managed IT Services Work
Managed services work with an organization to fulfill a set of IT services and solutions. 
Depending on the organization's size, structure, needs, budget, and location, service offerings will vary from provider to provider. According to Statista, most general services provided by MSPs include: 
Antivirus/malware

Server backup

Email security

Endpoint management

OS patching and updates

Office 365 or G Suite management

Network monitoring and management

And more
After an organization determines their IT needs, they create a service level agreement. 
A service level agreement, or SLA, defines the level of services one can expect from a vendor. 
This includes scope of services, responsibilities, availability, and service quality. In addition, it may include service guarantees from a managed service provider, such as a 99.999% uptime guarantee, 60 second call support, or 1 hour on-site IT support.
Pros and Cons of Managed It Services
Using a managed IT service provider (MSP) has the following pros:
PROS:
Access to specialized expertise:

MSPs have teams of skilled professionals who specialize in different areas, allowing businesses to have access to a wide range of expertise without the need to hire in-house staff.

Reduced costs:

MSPs typically offer their services for a flat fee, which can be more cost-effective than maintaining an in-house IT team. This helps free up valuable resources that can be used elsewhere in a business.

Improved security and reliability:

MSPs deliver round-the-clock monitoring and security management to their clients. This can ensure that businesses have protection against cyber attacks, data breaches, and other threats.

Scalability:

As a business grows, its IT needs will also evolve. MSPs can easily scale their services up or down and can quickly adapt to changing business requirements.
However, there are also some cons to using a MSP:
CONS:
Dependence on third-party providers:

Entrusting a third-party with a business's IT needs can cause concerns about control and trust. Businesses may not have the same level of control or visibility over their IT systems as they would with an in-house IT team.

Lack of personalization:

MSPs typically offer standard services that may not be tailored to an individual business's needs. This can result in businesses paying for services that are not required, or not receiving the required level of support.

Communication challenges:

Outsourcing IT needs to a remote team can sometimes lead to communication challenges, especially when dealing with complex issues that require a lot of back-and-forth communication.

Service limitations:

MSPs may not have the ability to provide certain specialized services that an in-house IT team would be able to provide.
History of Managed It Services 
The history of managed IT services can be traced back to the late 1990s when businesses began to realize the need for external support in managing their IT infrastructure. During this time, companies started to experience the growing complexities and costs associated with maintaining their own IT systems.
The concept of managed IT services emerged as a solution to address these challenges. The idea was to outsource the management of IT infrastructure and services to specialized third-party providers. This allowed businesses to focus on their core competencies while leveraging the expertise and resources of external IT providers.
In the early days, managed IT services primarily focused on basic IT support tasks such as help desk support, network maintenance, and system monitoring. These services were typically delivered remotely, allowing businesses to offload the burden of managing their IT infrastructure and reducing the need for on-site IT personnel.
As technology advancements accelerated, managed IT services evolved to provide more comprehensive solutions. MSPs (managed services providers) expanded their offerings to include proactive monitoring, security management, data backup and recovery, cloud services, and strategic IT planning.
The growing popularity of cloud computing further fueled the growth of managed IT services. As businesses recognized the benefits of moving their IT infrastructure to the cloud, MSPs started offering cloud-based services and acting as brokers with cloud providers. This allowed businesses to offload the complexities of managing cloud-based systems to specialized providers.
Over time, managed IT services became an integral part of many businesses' IT strategies. The industry witnessed tremendous growth as more companies embraced the cost-effectiveness, scalability, and expertise offered by MSPs. Various industries, including healthcare, finance, retail, and manufacturing, began leveraging managed IT services to streamline their operations, improve security, and enhance their overall IT performance.
Today, managed IT services continue to evolve with the rapid advancements in technology. MSPs offer a wide array of services, including virtual CIO (Chief Information Officer) support, cybersecurity, data analytics, disaster recovery, and IT consulting. These services are tailored to address the specific needs and challenges faced by modern businesses.
The future of managed IT services looks promising as businesses increasingly recognize the value of outsourcing their IT needs to specialized providers. With the ever-increasing complexity of IT environments, the demand for managed IT services is expected to continue to rise, further driving innovation and advancements in the industry.
What Services Do Managed It Service Providers Offer?
Managed IT providers offer a wide range of services to help businesses manage their IT infrastructure and operations. Some of the common services provided by MSPs include:
Network Management: MSPs monitor and maintain the client's network infrastructure, including routers, switches, firewalls, and other network devices. They ensure that the network is secure, optimized, and performing at peak efficiency.

Help Desk Support: MSPs offer level-1 support to address end-user issues, such as password resets, software installation, and troubleshooting. This usually includes phone, email, and chat support.

Cloud Services: MSPs provide cloud-based solutions to help businesses migrate their data and applications to the cloud. They offer cloud hosting, cloud backup, and other cloud-based services to support the client's digital transformation.

Cybersecurity: MSPs implement security measures to protect the client's systems and data from cyber threats, including malware, ransomware, phishing attacks, and data breaches. They deploy firewalls, antivirus software, and other security tools to ensure that the network is secure.

Server Management: MSPs take care of server administration tasks, such as software updates, patches, and upgrades to ensure the client's servers are stable and secure.

Data Backup and Recovery: MSPs ensure the client's data is backed up regularly and stored securely to prevent data loss. They help clients to recover lost data and restore systems in case of any disasters.

Virtual CIO: MSPs provide strategic IT planning and consulting to help businesses align their technology with their overall business goals. They offer recommendations on technology investments, cybersecurity, and digital transformation.
Overall, managed IT providers offer a wide array of services to help businesses manage their complex IT environment. They work closely with clients to develop customized solutions that meet their unique needs and requirements.
Do Fortune 500 Companies Use Managed It Services?
Determining the specific Fortune 500 companies that use managed IT service providers may require more extensive research and access to proprietary information. However, it is well known that a significant number of Fortune 500 companies utilize managed IT services[4][5].
According to reports, over 90% of the Fortune 500 companies have multiple outsourcing contracts with managed service providers[4]. These contracts have a collective value of over $190 billion[5]. However, the specific names of the companies and their respective managed IT service providers are not readily available in the provided search results.
If you need a comprehensive and accurate list of Fortune 500 companies that use managed IT service providers, I would recommend accessing industry reports, market analyses, or reaching out to specific managed service providers that cater to Fortune 500 companies.
I hope this information is helpful! Let me know if there's anything else I can assist you with.
For more relevatnt information on managed services, visit our blogs on: