What are managed IT services and why are they important for businesses? 
For starters, managed IT services refers to any IT task that is outsourced (and managed) by a third party, like: 
Cloud services

Technical support 

Managing an organization's infrastructure

And other

types of services
Managed services are important because they help organizations to support, secure, maintain, and manage information technologies within terms of service level agreements. Supported by a managed service provider (MSP), managed IT services often help organizations with critical IT functions, such as: 
Disaster recovery

Maximizing uptime

Reducing IT issues 

Ensuring compliance 

Remote monitoring and management

And more
To learn more about what managed services are and their role in business, our article will cover: 
Managed IT Definition

What are Managed IT Services

The Benefits of Managed Services for Business

How to Choose a Perfect MSP for Managed IT Services
Managed IT Services Definition (and Example)
When companies use managed IT services, they are outsourcing responsibilities of their IT tasks to a third-party service provider. 
For companies with an effective in-house IT team, managed services may be leveraged as a way to free up internal staff of repetitive or complex tasks, such as: cloud computing, managed print services, mobile device management, and more. In other cases, a MSPs services offer can be scaled to support an organization's entire infrastructure. 
What is an IT Managed Services Provider?
The meaning of managed IT services is when an IT managed services provider (MSP) provides outsourced IT services. 
In business, MSPs are often used for:
Managing IT infrastructure

Offering technical support to staff

Fully managed hardware outsourcing

Adding cybersecurity hardening to IT systems 

Managing user access privileges and accounts across a client's systems
What separates a good MSP from poor MSPs would be their managed service offering and pricing model. Good managed service providers offer flexible suites of services that fulfill a client's day-to-day IT needs. An example would be an organization gaining managed security, break-fix support, and software-as-a-service (SaaS) in exchange for a predictable monthly fee. 
How Managed Services Work
Managed services work with an organization to fulfill a set of IT services and solutions. 
Depending on the organization's size, structure, needs, budget, and location, service offerings will vary from provider to provider. According to Statista, most general services provided by MSPs include: 
Antivirus/malware

Server backup

Email security

Endpoint management

OS patching and updates

Office 365 or G Suite management

Network monitoring and management

And more
After an organization determines their IT needs, they create a service level agreement. 
A service level agreement, or SLA, defines the level of services one can expect from a vendor. 
This includes scope of services, responsibilities, availability, and service quality. In addition, it may include service guarantees from a managed service provider, such as a 99.999% uptime guarantee, 60 second call support, or 1 hour on-site IT support.
For more relevant information on managed services, visit our blogs on:
What Managed Services Can Do For Businesses
Many businesses would fail without managed services. 
From providing technical support across an infrastructure, to troubleshooting problems fast with a remote helpdesk, to streamlining digital transformations, to elevating an organization's digital defenses, network reliability, and productivity, managed services fulfill essential roles that an organization's need for stability and growth. 
Without managed services, businesses would have more difficulty protecting their:
Data

Uptime

Employees

Infrastructure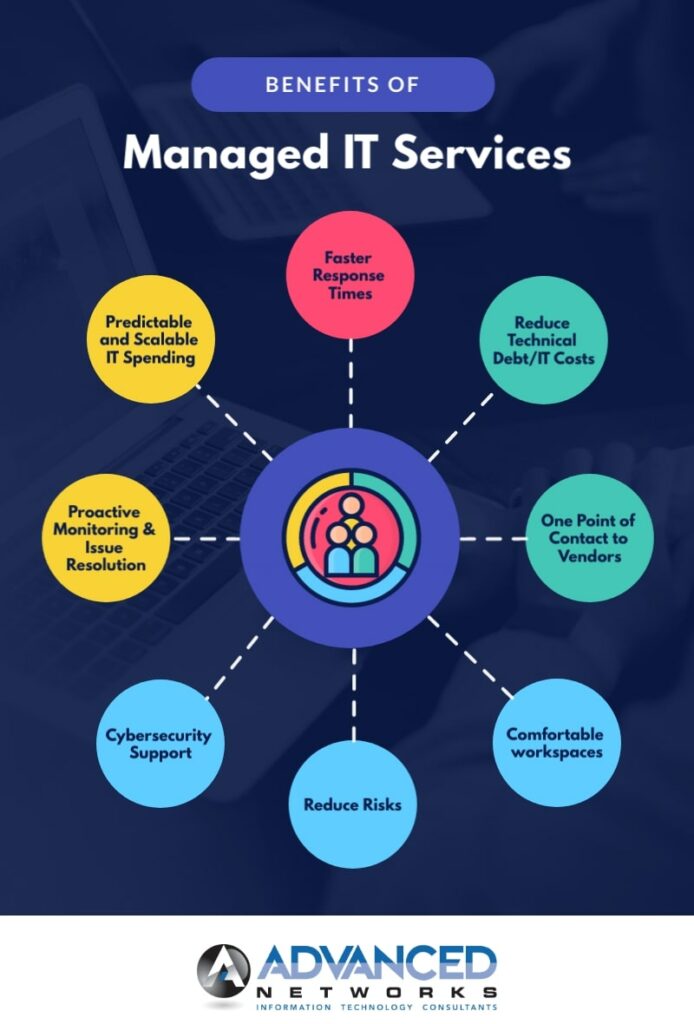 Reduce IT Risks With Our Trusted Managed IT Services
Data breaches have reached a 17-year high, averaging $4.24 million. With businesses being the most targeted sector worldwide, it begs the question: is your organization's security, monitoring, support, and processes where it should be? 
Chances are, there is room for improvement – and that's where a MSP comes into play. 
Whether you need a remote helpdesk solution or complete infrastructure support, monitoring, maintenance, and management, our managed services and solutions will fill the service and solutions gaps you have. Benefit from our average response times of 8 minutes and start seeing improvements to your IT fast with our 1 to 3 day expedited onboarding.
It's time for your technology to be an asset – not a liability. 
Get the managed services your business needs by contacting us today.