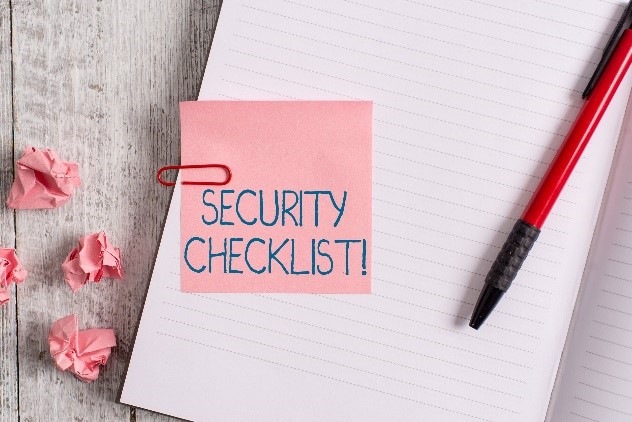 Cybersecurity in your business should never be an afterthought. Neglecting it in your budget, planning, and daily business processes can have very dire consequences. Many small companies have gone out of business completely following a security breach, and the news is awash with stories of big corporations that have faced major legal action as a result. The only way to mitigate the risks is to be proactive with your cybersecurity strategy. An audit checklist is helpful to ensure that all bases are covered. Irvine IT support providers help businesses with many of the cybersecurity planning, implementation, and monitoring needed.
Cybersecurity Audit Checklist Must-Haves
Below are some important items to include in your audit checklist. When you come to evaluate where your security stands, you can go through the items on the list and make the necessary changes.
The first thing you need to do is to make sure that your company network connection is a secure one. So much of the day to day tasks that happen in a business rely on the internet connection. If your Wi-Fi is not private, safe, and secure, this could put your data and entire operations at risk.
Most businesses today use many mobile devices; therefore, mobile device management and security are crucial. Laptops, phones, and tablets can be lost, stolen, or accessed by unauthorized personnel, so it is vital that these are protected.
All your IT practices need to be covered in detail in an IT policy document. Additionally, these policies need to be regularly updated and communicated to all the users of your network. Anything outdated or no longer applicable needs to be revised. It can also be helpful to prepare the policies in collaboration with the end-users themselves.
Employee education is another major item for your cybersecurity checklist. Irvine IT support providers can help to train your teams with the latest in IT security. Many data breaches happen as a result of poor user training. Training on the proper use of company emails is also needed. Users need to know what data can and cannot be shared. This ties in with access management for the different levels of staff. Social engineering and phishing schemes rely on ignorance and an inability to recognize them.
Advanced Networks is a trusted Irvine IT support provider. Our services include total backup and disaster recovery systems, remote monitoring and management, and network management, to name a few. Get in touch with us for assistance.