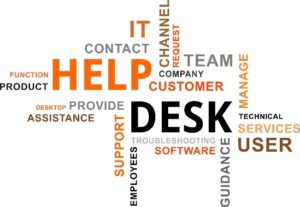 Businesses are increasingly embracing the idea of shifting their IT functions to managed service providers (MSPs). If you thought that the decision to outsource IT is only for small and medium businesses, think again. Today, businesses of all sizes have come to appreciate the fact that MSPs are better at responding to the changes happening in IT. Aside from this realization, outsourcing IT functions comes with benefits that include improved scalability and stability, cost-cutting, and improvement of profitability. Are you itching to know the reason why you should consider shifting to an outsourced IT help desk? Well, here are some compelling reasons as shared by an IT support provider in LA:
What is an IT Help Desk?
A help desk is simply defined as a resource that is intended to provide the internal users or customers with support and information related to a firm's products, processes, and services. The main aim of any help desk is to afford the users with a centralized resource center of sorts that is tailored to troubleshoot problems, answer question and supply solutions to all known problems.
Reasons Why You Should Shift to an Outsourced IT Help Desk
Access to experts – When you outsource your IT help desk to an MSP, one of the perks that come with such a move is access to the MSPs team of experts who will be able to offer your customers and internal users expert-level support. Outsourcing your help desk to a reliable IT support provider in LA will save you the trouble of having to hire several IT experts to handle different elements of your IT help desk.
Better use of your time – Outsourcing IT means that your internal staff is freed of the burden of having to manage the IT help desk. Instead, you can deploy this human resource to the other critical areas of your operations.
24/7 support – Outsourcing your IT help desk means that you need not worry about your employees or customers being stuck when your office closes the office for the night or for a holiday. Think of the MSP as a big brother that is always there to respond to all IT-related queries and ensure that your systems run smoothly and in turn ensure that you get to enjoy a peace of mind.
Parting Shot
Seen the benefits that accompany the decision to outsource your IT help desk to an MSP? To enjoy this benefit, go for a professional in the industry like Advanced Networks. We pride ourselves as being a leading IT support provider in LA with a solid reputation in so far as offering unmatched IT help desk support to businesses of all sizes. Contact us today and let us discuss how we can be of benefit to your growing firm.