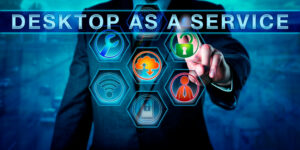 Virtual desktop infrastructure (VDI) and desktop as a service (DaaS) share similar features, but they are also quite different. Both of these options allow users to access virtual desktops, which saves a lot of time from having to install or update operating systems for various devices throughout the company. An IT support provider in LA can help you gain an even better understanding of the differences between both of these options for your business.
Scalability Options
VDI installations often take much longer to set up, and it can be difficult to make any changes at a later time. On the other hand, DaaS gives you more flexibility, as they can often begin operating in much less time. All you have to do is to make a few changes during the initial process and assign accounts to your employees.
Security
Organizations dealing with sensitive information often choose on-site VDI because it gives them greater control over their data. However, DaaS offers numerous security methods to boost data security, such as multi-factor authentication, intrusion detection, and encryption.
Cost
Cost is always a big factor for any business. Typically, implementing VDI costs a lot more due to the infrastructure expenses. In comparison, DaaS gives businesses more flexibility in allowing desktops to be used in the cloud. An IT support provider in LA can work with your business to determine the best cost-effective option to meet your needs.
Management
Using VDI requires you to handle all of the installation and maintenance tasks. On the other hand, using DaaS saves you a lot of time, as everything is managed for you. You won't have to worry about any maintenance or upgrades, which is a major plus for many businesses.
Advanced Networks offers IT support solutions for a wide range of small to mid-sized businesses in LA. Our IT team is always available to answer any questions and provide you with technical assistance. Feel free to contact our IT consultant in LA to learn even more about our IT services!