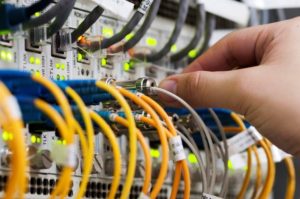 IT support experts in Santa Ana can help you set up your computer network to maximize performance and give each employee access to the internet. Before you set up your network, it is important to consider the unique needs of your business. IT professionals will configure your network settings based on the number of users, the amount of data usage, and the type of applications that you will use on a regular basis. Ultimately, these settings will maximize productivity and limit downtime for your company.
Here are a few ways IT experts can help you set up your computer network:
Choose Between Wired or Wireless
In the past, computers always had to have an ethernet cable to be wired directly to the network. However, now the vast majority of computers use wireless technology to connect to the network. While a wired connection is less popular, it does have a few benefits. These advantages include a faster internet connection and improved reliability. On the other hand, wireless networks are much more convenient to set up, but they may have reduced speeds and performance depending on the number of users connected to the network.
Keep Network Safe and Secure
IT support experts in Santa Ana will ensure that your network remains secure at all times. Enabling a firewall and wireless encryption are just a few ways to enhance network security in the workplace. It is also important to change the default password and limit access to only authorized users. IT experts can also create a VPN to enable remote access for employees that work outside of the office.
Hardware and Equipment Options
IT specialists can help you choose a wired or wireless router that best meets the needs of your business. It is important to remember that most wireless routers have a range of 100 feet, as you may need additional access points for larger areas. Cloud-based servers are also a popular option with small businesses, as it is more cost efficient than a physical server. The cloud also gives your business flexibility to expand in the future. IT experts will set up all of the network equipment and continually monitor it to maximize uptime.
Advanced Networks offers IT support solutions for Santa Ana small businesses. We can help you set up your computer network and provide on-site technical support at any time. We have many years of experience in the IT industry, as we take pride in offering the best customer support available. Contact us now to schedule a consultation and learn more about our IT services!