Did you know that 91% of businesses have implemented, or are in the process of implementing, a digital-first strategy with the goal of driving growth and innovation?
While all of this sounds promising in theory, it has become a taxing pursuit for many non-tech-oriented organizations. The truth is that navigating and managing modern IT demands is both complex and time-consuming. 
That's why more and more businesses choose to outsource their IT needs to third-party experts.
In this article, we discuss the top four advantages of outsourcing IT services. We also touch on the more general IT outsourcing pros and cons. Together, these valuable insights will help you to decide whether managed IT services are right for your business.
Experience the Advantages of Outsourcing IT Services
Bring the benefits of IT outsourcing to your business with Advanced Networks.
What is IT Outsourcing?
Information technology outsourcing is similar to hiring an experienced contractor to renovate your home. 
It is the practice of subcontracting one or more particular functions to a more knowledgeable, external resource. In this case, the function in question is your organization's IT needs.
Companies specializing in IT outsourcing are known as managed services providers (MSPs). Their objective is to assist with – or take full charge of – your IT systems and strategy. 
This speaks to an important point about MSPs: depending on your needs, their services can be either narrow or comprehensive.
An outsourcing contract can include a variety of IT facets, such as software development outsourcing, network monitoring and maintenance, IT strategy, help desk services, cybersecurity, and more.
As we discuss below, organizations can partner with an MSP to streamline business processes, oversee security, and cut costs. This is true for any organization, whether it's a public sector company, non-governmental organization (NGO), or small and medium-sized business (SMB).
The Top 4 Benefits of IT Outsourcing
IT outsourcing is designed to help organizations navigate the complex and rapidly changing technological landscape. From small businesses to larger companies, MSPs allow you to:
1. Reduce Infrastructure and Labor Costs
One of the major issues associated with the deployment and maintenance of IT infrastructure is the sheer cost. Whether it's running your own data centers or keeping a team of IT professionals on payroll, expenses quickly add up.
MSPs offer a cost-effective alternative. Instead of spending your own money on IT systems and staff, MSPs absorb these costs and provide them to you as a service. 
This means that, despite not having your own resources, your organization can still benefit from cutting-edge IT solutions at competitive rates.
2. Access an Extensive and Scalable Talent Pool
Technology is an important resource for your business. However, having people who can properly maintain and manage that technology is just as important.
When partnering with an MSP, you'll immediately be granted access to an extensive talent pool. The number of technicians on staff, equipped with a diverse range of qualifications, means you can get the expertise you need for any type of job.
Plus, scaling is effortless. As demand increases, building out your own internal resources is tricky. 
Many in-house IT teams already feel understaffed and overworked. In contrast, MSPs are always ready to provide you with the IT manpower you need, eliminating the tedious process of hiring and training.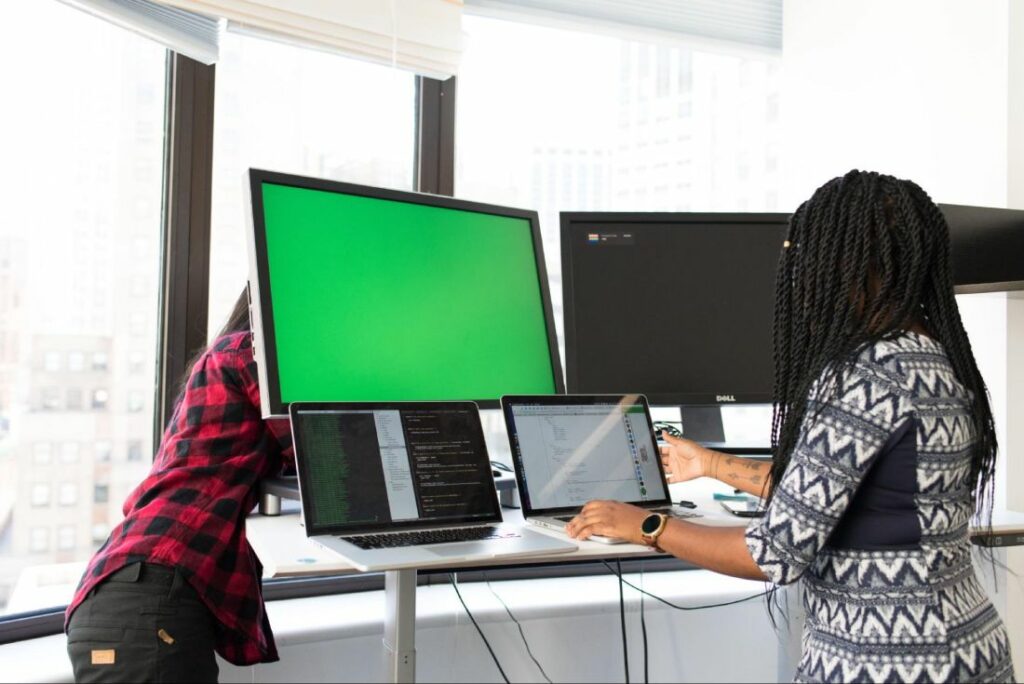 3. Focus on Your Core Business Functions
Employees thrive when they can focus on the work that matters most to them. While the short-term consequences of handling your own IT issues may seem negligible, the long-term effect is not. Over time, your overall productivity will take a massive hit. 
Simply put, the time spent resolving complex IT problems or trying to devise a strategic IT roadmap comes at the expense of core business activities. 
Partnering with an MSP is one of the best ways to offload those critical but tangential responsibilities. Time and energy are limited resources; be sure to spend them wisely.
4. Improve Business Processes and Security
When it comes to IT, many organizations maintain an "if it ain't broke it, don't fix it" mindset. This is in stark contrast to most MSPs, who tend to live at the cutting-edge of technology. 
MSPs recognize that even perfectly good IT systems can suddenly become unsupported or obsolete, leaving you stranded.
This unfortunate fact is why it's essential to keep up with the times. The bright side is that this offers an opportunity to improve business processes, streamline workflows, and bolster cybersecurity. 
This is achieved by eliminating technological inefficiencies, redundancies, and vulnerabilities and replacing them with improved versions. 
Summary of IT Outsourcing Advantages and Disadvantages
Now that you have a thorough understanding of the four main benefits of IT outsourcing, let's look at its two main disadvantages. We close out this section with a bullet-point summary of the advantages.
Disadvantages of Outsourcing
Communication is vital. It's arguably more important than accreditations and certifications. Here is an example of that in practice.
Let's assume that your organization suffers a downtime event or data breach. An MSP's qualifications are useless unless they can quickly execute your disaster recovery plan to resolve the breach.
The Solution
How do you ensure good communication? When looking for an MSP, take the time to speak with one or more representatives over the phone or in person; assess their ability to communicate and ask what their average response time is.
Any task outsourced to an external party naturally results in an internal loss of control. The extent of this loss can vary based on a number of factors. 
Nevertheless, this is an important facet to recognize about outsourcing before taking the plunge.
The Solution
Though the very point of hiring an MSP is to offload IT-related tasks, you must first be comfortable with the idea that your IT function, such as infrastructure, security, and day-to-day remediation) will be in the hands of a third party.
For the most part, this is a matter of framing. But make sure to carefully vet any potential MSP to ensure they have a good track record with their previous and existing customers.
Advantages of Outsourcing
Highly scalable
Improved IT strategy
Cutting-edge cybersecurity
Round-the-clock network monitoring
Improved focus on core business activities
Access to more experts with more expertise
Reduction in payroll and infrastructure costs
Interested in learning more about IT outsourcing? Check out these blogs:
Enjoy the Benefits of Outsourcing IT Services With Advanced Networks
Now that you understand the advantages and disadvantages of partnering with an outsourced IT service provider, it's time to decide what's best for your organization.
In the long term, the greatest benefit of IT outsourcing is the time and money you'll save. Plus, you'll benefit from strategic IT thinking that can inspire business growth and innovation.
Looking for a top-tier MSP in the Los Angeles and Orange County area? Advanced Networks is ready to assist you. We offer comprehensive IT solutions and services, with an average ticket response time of just eight minutes. We also provide:
24/7/365 IT support and helpdesk
On-site support within just one hour for emergencies
Senior-level engineers instead of entry-level technicians
Focus on the things that matter most, and leave the rest to us. Contact us today if you're ready to reap the benefits of IT outsourcing.